Whats Included in a Package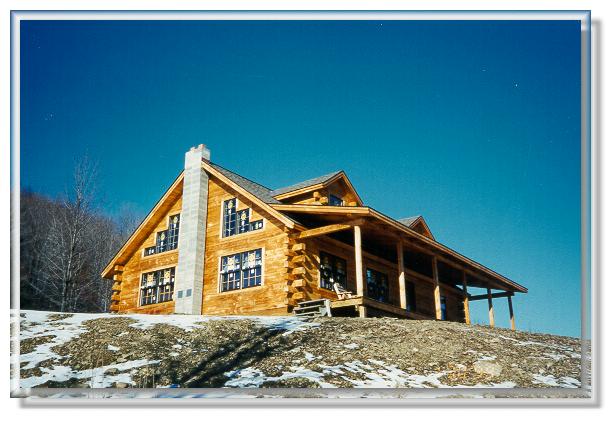 FLLH Log Home Kits/Packages Include (Materials List):
All the Finger Lakes Log Home logs (6"h by 8"w, your choice of machined surfaces) to 8 ft. height, higher in some models.
10-inch lag screws.
Closed cells PVC gasket material to seal between logs.
Caulking to seal between logs, butt end joints, and corners.
Log siding for gable ends and dormers.
All engineered prefabricated roof trusses and/or 2x12 roof rafters as required by design, gable end studding, and gable overhang studding.
1/2" exterior plywood roof decking with H clips. (Upgrade to 5/8" available.)
Felt paper (15 lbs.) and self sealing 25 year roofing shingles with your choice of colors. (Upgrade to architectural shingles available.)
Ridge vents and soffit vents.
Brown Drip Edge
Fascia
1x6 tongue-and-groove soffit.
Double-hung insulated high-performance E glass, easy take-out windows with wood grilles and screens. (Your choice of Pella or Andersen and choice of colors.)
Both exterior insulated metal Cross Buck doors with insulated glass, wood grille and keyed-alike locksets.
Nails: 8d coated for roof decking; 16d - framing; roofing; galvanized siding and finish.
Door and window buck lumber and exterior casings.
7/16" sheeting in gables and dormers if required.
Porch roof materials, support post, and carry beams according to plan.
Instruction from a Finger Lakes Log Homes representative.
Two sets of blue prints.
Woodguard exterior preservative.
NOW AVAILABLE - LOG WALL PACKAGES:
BUY JUST OUR T&G LOGS ALONG WITH THE GASKET, CAULK AND LAG SCREWS FOR ASSEMBLY ALONG WITH LOG SIDING FOR GABLE ENDS (WINDOWS CAN BE ADDED TO THIS EASILY). YOU CAN SAVE MONEY ON TRUCKING AND BY SHOPPING LOCALLY FOR FRAMING AND ROOFING MATERIALS. CONTACT US FOR INFO AND PRICING OF THE LOG WALL PACKAGES
We offer many options that can be added to your packages:
Cathedral Ceilings
Log Siding Skirting
Extra Porches
French Doors
Picture and Bay Windows
Log Floor Beams and 2x6 Tongue-and-Groove Flooring for Second Floors
1x6 Pine Tongue-and-Groove Paneling
'V'-Groove Log Paneling
Garages
And More!